The infamous crop top first emerged in the 1940′s as a short, collared shirt for a conservative way for women to show more skin. It could be dressed up for a glamorous outfit, or coupled with a simple high-waisted skirt for weekend picnics.
The top's popularity peaked in the '70s and '80s due to it's presence in pop culture, worn by stars such as Madonna.
Its style evolved through the '90s with preppy cropped sweaters worn in "Clueless".
The crop top reemerged as a high fashion item in 2011 and 2012, where it was viewed on the runway as an edgy, minimalist piece. Most recently, Kendall Jenner modeled part of the Calvin Klein winter collection, which included two versions of a cropped sweatshirt. The leisurely sweatshirt now had a sex appeal and a variety of ways it could be dressed up.
On my first day of classes, I was looking for comfort which still achieving peak chicness. I decided to style my black Zara cropped sweatshirt to emulate the style of Tracee Ellis Ross in the show "Blackish", in which she layers her brightly colored sweatshirt with a collared, longer shirt.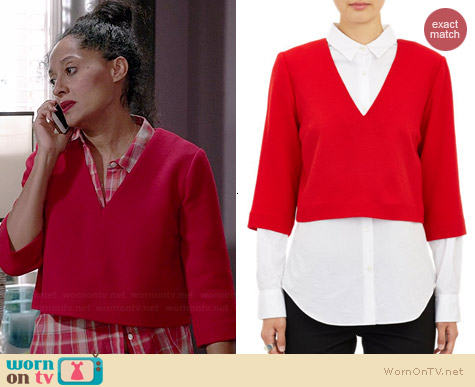 Sources:
http://www.hercampus.com/school/bucknell/history-crop-top
https://en.wikipedia.org/wiki/Crop_top
http://startupfashion.com/fashion-archives-history-crop-top
http://blog.closetspace.com/the-crop-top-is-yet-another-example-of-fashion/